STEVE J. SHERMAN
STEVE J. SHERMAN PHOTOGRAPHY LLC
Music, Portrait and Performing Arts Photography
New York City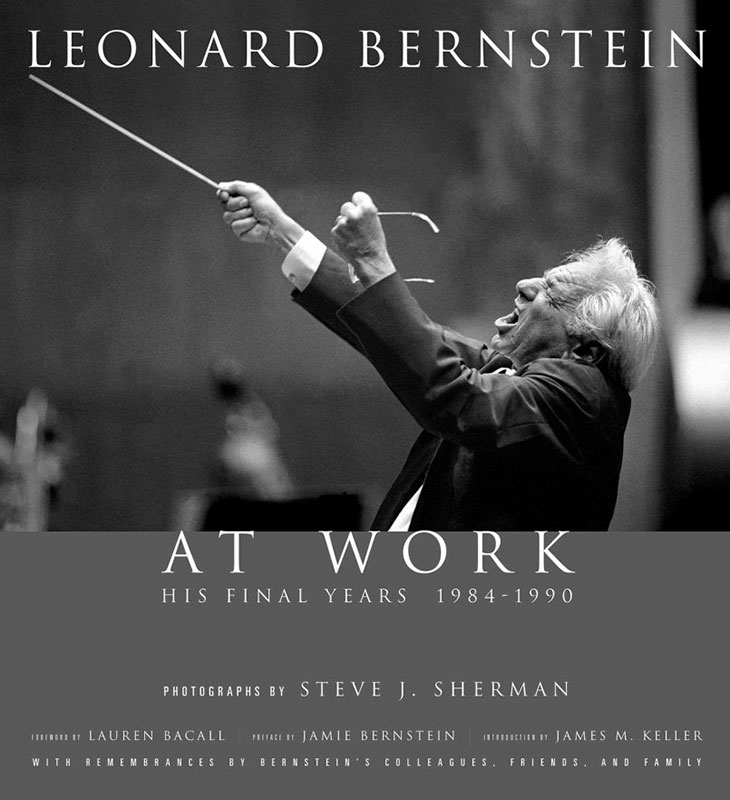 "What an excellent celebration of our father's legacy. Steve J. Sherman's images are more than just beautiful; they are revealing, passionate and haunting."
"An extraordinary document of Lenny's final years. Alternatively exhilarating and tragic, and the quotes are marvelously insightful. It's our latest treasure."
"Leonard Bernstein At Work, His Final Years, 1984-1990 is a magnificent outpouring and tribute in the form of a vast photo essay with commentary. It deserves the highest recommendation and the widest circulation. No one in America alive today is unaffected by the tremendous legacy of this staggering musical genius. It is a great pleasure and privilege to see a portion of the man in these careful reflections and multiple-faceted mirrors."
"This work features iconic image after iconic image, laid out for us in stark black and white alongside moving and deeply personal quotes from friends and colleagues. It is hard to imagine a photo retrospective of Bernstein's life could be this powerful."
"The book's wide pages brim with euphoric moments that give context to the final bleakness. It covers years of Bernstein at full throttle, freezing moments of intense rehearsals, his adrenalin bursts in performances, a Bernstein enveloped in work with fellow musicians, composers. One also gets a backstage world, the super-star entourage, managers and publicists whose solicitousness and expertise at their roles mirrored the maestro's intensity… How well Sherman succeeded is clear from the fiercely energetic, if sometimes heart-breaking human dimension of this book."
"Steve Sherman's ability to capture Bernstein's remarkable charisma, both on and off stage, makes this collection of photos taken during the six years before his death in 1990 especially powerful…. Sherman's photos tell stories that words can't."
"Author/photographer Steve J. Sherman is clearly a superb visual documentarian of classical music's elite performing artists… These photographs are truly "worth 1000 words" and more. Bernstein lived in the moment, and these 200 moments thankfully have been recorded for posterity. To truly understand him, you had to be there, to hear him conduct. This is the next best thing and is a book to cherish – a visual encapsulation of all that he was."
"Incredible photos. After years of photographing the legend wowing his own fans, this time the applause will be for Sherman as well."
"From the time he first conducting the New York Philharmonic in 1943 until his death in 1990, Leonard Bernstein was a living legend. This lovingly prepared coffee-table book captures the lion in winter through arresting photographs taken on stage, backstage, with colleagues, and with friends. Along with these images, the great musician is remembered through glowing tributes from those who knew him. The unsung here of this sumptuous survey of Bernstein's final years is the photographer Steve J. Sherman, long a ubiquitous figure around New York's concert halls… This handsome volume preserves these penetrating and dynamic images for posterity."
"A magnificent 190-page coffee table book of photographs by Steve J. Sherman… Who better than he to assemble the definitive photographic record of Lenny's final years, to capture the struggles and increasingly hard-won triumphs of the most remarkable, most gregarious, most photogenic musician any of us had ever known?"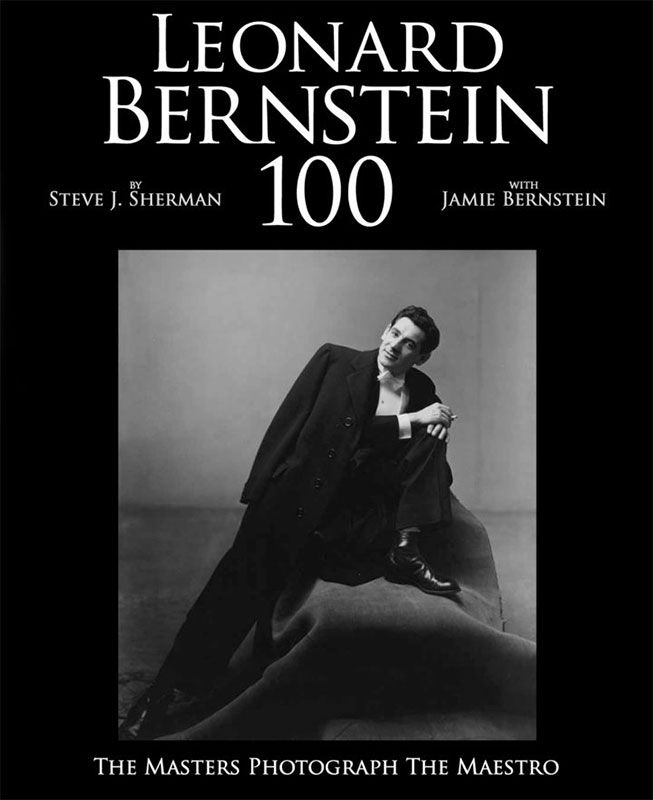 "Congratulations on your spectacular new book. It's one of the finest photography books I have ever seen and it's arranged in the most compelling and imaginative way. Hope it sells a million copies…it certainly deserves to be widely seen and appreciated."
"Leonard Bernstein 100 by Steve J. Sherman with Jamie Bernstein, is a love affair between Leonard Bernstein and the camera, with invaluable information about the maestro's life and career… This book opens the door to the maestro as nothing else can. As we turn the last page, we are left with a sense of knowing this man, and being a better person for it. This is a book that is read once, and then once again, and again – each time gaining new insight into a true maestro."
"Stunning photographs… One hundred of the best photos of [music legend Leonard] Bernstein, taken by unknown and well-known photographers across his life, have come together in a new book by Steve J Sherman and Leonard's daughter Jamie Bernstein in Leonard Bernstein 100: The Masters Photograph the Maestro.
Leonard Bernstein's captivating energy and intense depth are shown through the photos included in the book. The collection also includes many documents from Bernstein's life, such as early drafts of compositions and handwritten letters.
While Bernstein may be closer to our time, he will be remembered just as much as Bach and Beethoven in musical history thanks in part to the work of many amazing photographers. To see this celebration of Bernstein's life, check out Powerhouse Books' Leonard Bernstein 100: The Masters Photograph the Maestro."
"There is a range of emotions that informs the images… The book features many unpublished photos of Mr. Bernstein by some of the most famous photographers in the world, from Irving Penn to W. Eugene Smith, Richard Avedon, and Henri Cartier-Bresson. After all, master does recognize master."
"This handsome tome is a photographic tribute to Leonard Bernstein in his centenary year and contains one-hundred photographs spanning his life. At the end of the book there are facsimiles of Bernstein's handwritten or typed letters and manuscript scores. The photographs themselves are beautifully reproduced, one to a page so that you are able to see them in a fairly large size that brings out the quality… A great many depict Lenny with a cigarette in hand and/or a glass of whisky… There are joyous images, too, of his total involvement in conducting, arms flailing and facial expression reflecting the mood of the music. There is Bernstein as family man including an endearing snap of the family up a tree; others with his parents and with his grandchildren. So, a splendid gift for the Bernstein aficionado."
"An elegant, captivating collection of significant photographs to celebrate the iconic 20th century composer/conductor's Centennial in 2018.
Bernstein's life captivated the public, giving rise to many indelible photographs by many of the greatest photographers of the 20th Century. Whether on stage or backstage, jet-setting from country to country, partying with other celebrities or at home with his family, this book tells Bernstein's story through the lenses of such masters as Richard Avedon, Heni Cartier-Bresson, Bruce Davidson, Alfred Eisenstaedt, Ernst Haas, Ken Heyman, Stanley Kubrick, Gjon Mili, Ralph Morse, Carl Mydans, Arnold Newman, Ruth Orkin, Gordon Parks, and Irving Penn.
This rich trove gives generations to come an unforgettable, enlightening glimpse into the life of an artist who changed the face of culture in the 20th century."
"Leonard Bernstein is widely known as one of the greatest conductors, composers, musical inspirations, and creative minds of our time. He is also legendary for his extreme passion, raw charisma, and powerful convictions.
Bernstein was photographed by some of the greatest visual masters of the 20th century, including Richard Avedon, Henri Cartier-Bresson, Alfred Eisenstaedt, Ken Heyman, Yousuf Karsh, Stanley Kubrick, Gjon Mili, Arnold Newman, Ruth Orkin, Irving Penn, and W. Eugene Smith.
To mark his centennial, curator and photographer Steve J. Sherman and Jamie Bernstein, Lenny's eldest daughter, released Leonard Bernstein 100: The Masters Photograph the Maestro. Published by PowerHouse Books, this collection of 100 iconic images tell Bernstein's life story through the vantage point of these image-makers and their revelatory, and sometimes never-before-seen, photographs.
A foreword by Bernstein's three children, along with a selection of Bernstein's handwritten music sketches, letters, speeches and poems, are also included in this book that provides an intimate look into the life of an artist who changed the face of the 20th century."